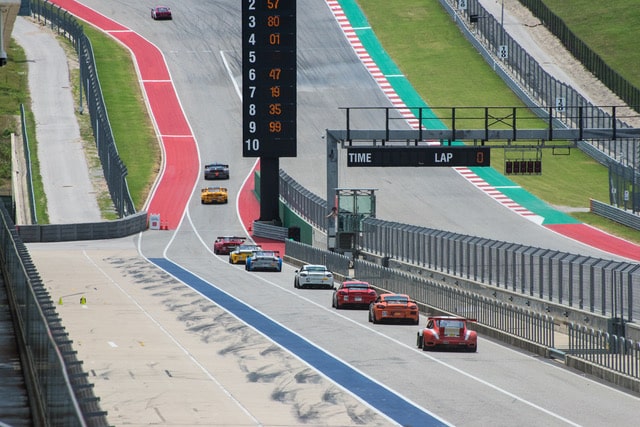 Austin, Texas — Porsche Trophy West USA kicked off Round 4 at Circuit of the Americas. 
Porsche Trophy West USA took to the massive 3.4 miles of the rollercoaster racetrack at Circuit of the Americas today for Race # 7 of the 2019 season. The 251-foot observation tower was the first noticeable feature of Circuit of the Americas, but the world-class presence of the track was felt just as easily. The paddock that has hosted many motorsport legends in the past, was now home to the drivers and teams of Porsche Trophy West USA, with a vibe was just as grandiose. Porsche Trophy West USA was the support series during the return of Formula 1 to the United States at Circuit of the Americas in 2012, so this was a homecoming of sorts for the series.
Thirty-two Porsche GT3 and GT4's in six classes competed today at Circuit of the Americas: Platinum and Platinum Masters (Porsche 991.2 GT3 Cup), Gold (Porsche 991.1 GT3 Cup), Bronze (Porsche 981 GT4 Cup), Diamond (Porsche GT3 R), Emerald (Porsche 991.2 GT3 Cup MR).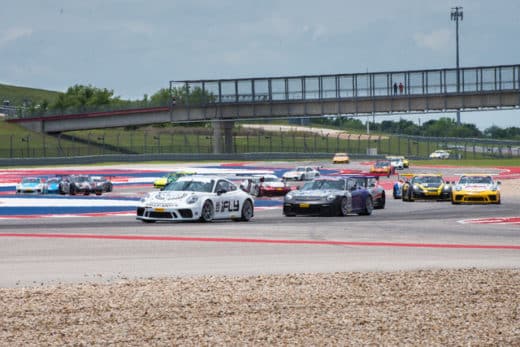 First out today was Group 2 putting their Porsche Cup cars to the test on the Austin, Texas racetrack. The aggressive aerodynamic kits of the Porsche GT3R and GT3 Cup MR's, and the sleek bodies of the GT4's were right at home in the demanding curves of turns 3 through 9. Andy Wilzoch led the pack at the start and was tailed by John Cahalin and Eric Olberz. The Diamond Class Porsche GT3R's, Emerald class GT3 Cup MR's, and GT4's accelerated towards turn 1 beginning their quest for a podium finish. Wilzoch fought hard to maintain his position through turn one and immediately began distancing himself from the pack. With Wilzoch's lead developing throughout the race, the Diamond Class battle was left to John Cahalin and Eric Olberz. Olberz pressured Cahalin throughout the majority of the race, but Cahalin was able to fend him off and take second place. Martin Brauns drove hard to separate himself from David Harper in the #3 GT3 Cup MR. Brauns efficiently gave himself a double-digit lead and maintained his pace to capture first place in the Emerald Class.
"Dave did a great job," said Brauns. "He got on the inside of me on turn one, but I managed to repass him by turn 4. He's a great competitor, and I'm glad to have him here!"
Bronze Class leader, Erin Vogel was met with steady competition today and was overpowered in qualifying by competitor, Mike Vess. Vogel stayed tight on Vess's tailpipes throughout the entire race, but the pressure was not enough to force a mistake by a focused Vess.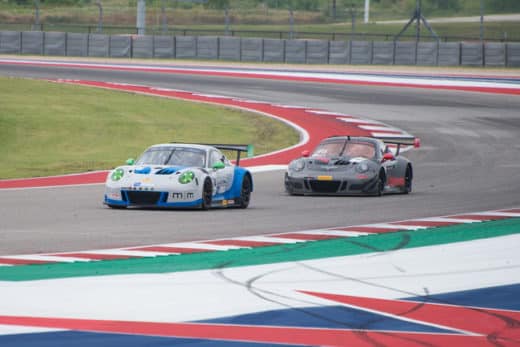 "I just tried to focus on my drive and keep my eyes on what was ahead," said Vess. "There were a couple of moments where Vogel got close enough that I knew she could have a shot at making a run, but most of the time I just tried to stay committed to what I was doing. She made me very aware that she was there, so I just had to focus on what I could do."
Group 1 followed soon after Group 2 and was led at the start by Platinum Class driver Alan Metni on pole position. The 23 Porsche 991.1 and 991.2 GT3 Cup cars raced past the green flag and up the hill into turn one as if they would take off into the Texas sky. Alan Metni maintained his lead through turn 1 with the 22 other Porsche GT3 Cup cars close behind. Steve Miller fell from second place and was passed by Michael Zuieback, Hutton McKenna, and Preston Calvert. McKenna pushed past Zuieback in lap 3, and Calvert followed suit passing Zuieback at the start of lap 4. Metni put the pedal to the metal and maintained a comfortable lead for the rest of the race.
"My strategy was just to go fast," said Metni. "I wanted to make sure that I didn't overdrive it and that I hit all of my marks. The car was great, and it felt planted underneath me. My team gave me a great car."
Platinum Masters driver, David Donner qualified P1 in his class and started the race with one car between himself and class competitor, Jim Walsh. Walsh fought hard to sneak by the Platinum Class that separated them, but Donner was able to maintain the buffer for the rest of the race.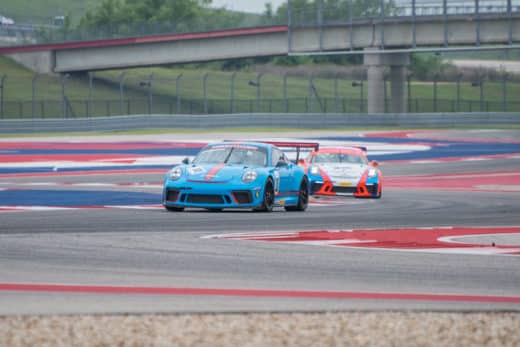 "The biggest excitement, as usual, came at the start," said Donner. "I never really battled too much with any of the Platinum drivers, but I know that Walsh had a couple of them in his way. I felt at home up front, but there are still several changes we want to make to the car to make it more consistent and enduring."
Gold Class driver, Laura Ely took first place in Race #5 at WeatherTech Raceway Laguna Seca and qualified P1 in her class. She was pressured immediately by Ray Shahi and lost her position in lap 1. Shahi, Ely, and John Krieg had a close battle for the first half of the race until Krieg was able to make his way to second place. The competition was fierce between Shahi and Krieg for the remainder of the Gold Class race with Shahi coming out on top.
"I didn't have a good qualifying," said Shahi. "I was about a second behind Ely, so I knew I had to do something at the start, or I would be history. I found a hole, and I took advantage of it, and then I tried not to make any mistakes for the rest of the race. The track was greasy but all in all, it was a great race. We had a close finish."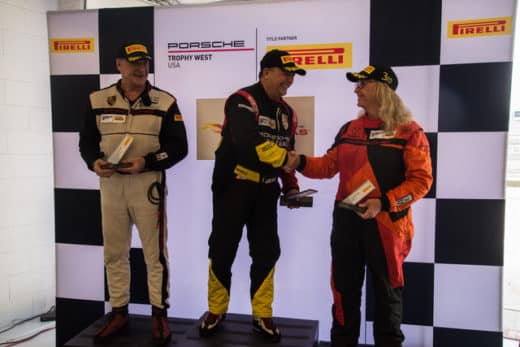 Circuit of the Americas is found on every driver's bucket list, and the excitement at this incredible racetrack is not over yet. Porsche Trophy West USA will return to Circuit of the Americas for Race #7 on Sunday. Follow all of the action on Instagram and Facebook at @porschetrophywestusa