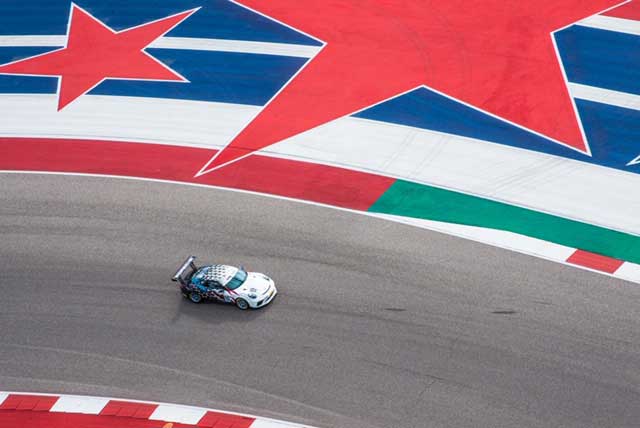 Austin, Texas — Porsche Trophy West USA brought Round 4 at Circuit of the Americas to an end today. 
Porsche Trophy West USA returned to a foggy Circuit of the Americas this morning for Race #8 of the 2019 season. The gray slowly dissipated with the morning sun, and the unique features of the track were revealed. Turn one appeared to be a stairway into the clouds, and the stars and stripes around the track began to radiate colorfully. Similarly, it became clear that the final day of racing at Circuit of the Americas would be full of excitement. The end of Race #8 today marked the halfway point of the 2019 Season, and the class-leaders drove hard to send the message that they are vying for the championship.
Thirty-one Porsche GT3 and GT4's in six classes competed today at Circuit of the Americas: Platinum and Platinum Masters (Porsche 991.2 GT3 Cup), Gold (Porsche 991.1 GT3 Cup), Bronze (Porsche 981 GT4 Cup), Diamond (Porsche GT3 R), Emerald (Porsche 991.2 GT3 Cup MR).
Group 1 was first out on the track today and was led at the start by Race #7 Platinum winner, Alan Metni on pole position. Metni pulled away from his pursuers in the first lap and gave himself an early lead, mimicking his actions in yesterday's race. Hutton McKenna, Steve Miller, Michael Zuieback, and Preston Calvert were in close competition for second place. McKenna and Miller were able to solidify their positions in second and third place by the halfway mark of the race. Once Metni had truly separated himself from any danger of being passed, he turned his attention to listening to his car and improving his race craft.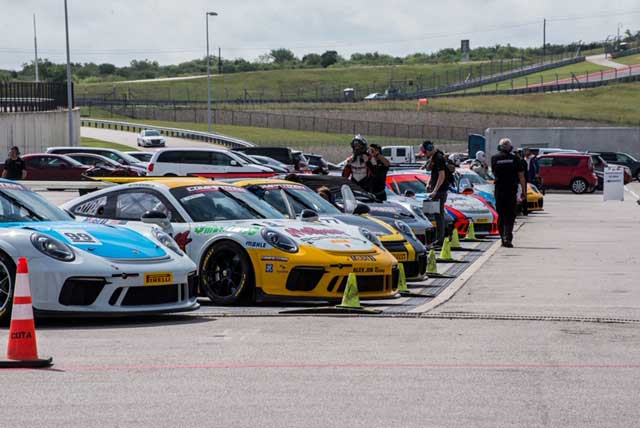 "Today was about two things," said Metni. "I was hoping to win, and I was hoping to learn something. We got both of those things today, so I am very thankful. It was quite low-grip out there today, and it was a great opportunity to focus on feeling what the car was telling me. I want to thank my wife for watching the kids today, so I could be out here playing!"
Jim Walsh was the first Platinum Masters Class driver to cross the green flag today after his outstanding qualification earlier in the day. David Donner made use of the first lap commotion and pushed his way to the front of the Platinum Masters group. Donner was once again able to put himself on the podium by focusing on his performance and driving without any mistakes.
"Walsh was a couple of cars ahead of me, so I had to be patient and keep an eye on him," said Donner. "Unfortunately he had a mishap in the carousel, so I was able to get past him. The car was great, and I was able to keep pressing for an overall finish. I am very happy with how things went today."
Ray Shahi led the gold class onto the track once again but was met with mechanical issues in the first lap. Laura Ely capitalized on the situation to put herself in first place. Gold Class competitor, John Krieg also looked to make a move following Shahi's brief retirement from the race and was tight on Ely's tail. Krieg who hadn't noticed that Shahi was out, pressured Ely and made his pass in lap six. Krieg was able to stay in front of Ely who maintained pressure for the rest of the race.
"Believe it or not, but I did not know that Ray was out until the race was over," said Krieg. "So my goal for the race was to get in front of Laura and stay ahead of her in case something did happen to Ray. The entire race I was wondering where Ray was; it was kind of funny!"
Group 2 followed soon after and closed out the weekend in a spectacular fashion. Diamond Class driver, Andy Wilzoch found himself starting the race at the back of the group. Wilzoch drove hard and managed to pass everyone by the halfway mark and put himself in first place. Emerald Class driver, Martin Brauns, was tightly pressured by David Harper. Harper was constantly filling the mirror of his competitor, but Brauns drove very strategically and was able to hold off his advances.
"David Harper did a fantastic job today," said Brauns. "He really made me work for it today, and I was thrilled to have him out there with me!"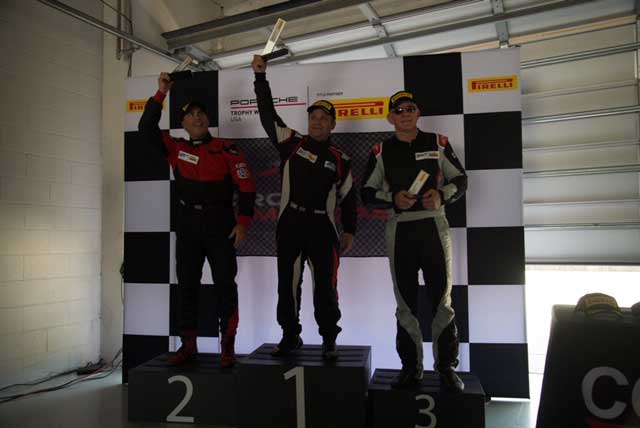 Erin Vogel continued her success in the Bronze Class and drove like a champion. She pushed as hard as possible with her windows removed after losing her air-conditioner in yesterday's race. The heat was not enough to make Vogel miss any marks, and she found herself on the podium once again.
"The track conditions got really bad," said Vogel. "I was able to reinforce some things that I learned this weekend, and learn about managing tires on a hot track. I've never experienced anything like that; driving without any airflow into the cockpit. The heat definitely starts to play tricks on your brain, and you can tell in the later laps when everyone kind of starts to slow down."
Race #8 brings a close to the first half of Porsche Trophy West USA's 2019 season. Competent Motorsport's President, Greg Franz, is looking forward to the excitement in store for the rest of 2019. "The 2019 season has been great so far," said Franz. "We've had four amazing events, and we have much more excitement to come. Races #9 and #10 will take place at Utah Motorsports Campus next month, and then after that, we have Road America, a return to WeatherTech Raceway Laguna Seca, and our season closer at Sonoma Raceway. I am very pleased with our first four events, and I am thrilled to see what happens during the rest of the season!"
Porsche Trophy West USA will heads to Utah Motorsports Campus for Races #9 and #10, July 19-21. Follow all of the action on Instagram and Facebook at @porschetrophywestusa