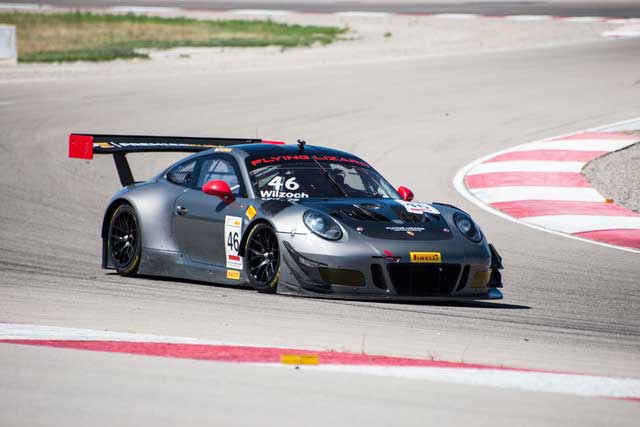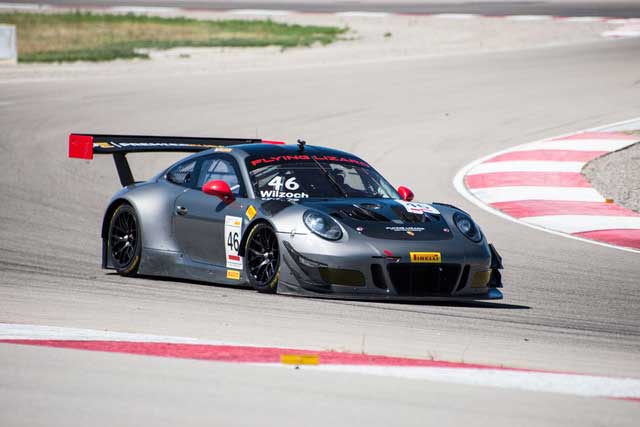 Toole, Utah — Porsche Trophy West USA kicked off Round 5 at Utah Motor-sports Campus. The drivers of Porsche Trophy West USA returned to Utah Motorsports Campus today for race #9 of the 2019 season.
Twenty-Five Porsche GT3 and GT4 Cup cars in seven classes competed today at Utah Mo-torsports Campus : Platinum and Platinum Masters (Porsche 991.2 GT3 Cup), Gold (Porsche 991.1 GT3 Cup), Silver (Porsche 982 GT4 Cup), Bronze (Porsche 981 GT4 Cup), Diamond (Por-sche GT3 R), and Emerald (Porsche 991.2 GT3 Cup MR).
Andy Wilzoch in his #46 991.1 GT3R led Group 2 past the green flag after fast laps in qualifying set him on pole position. The GT4's and 991.2 GT3 Cup MR's of the Bronze, Silver, and Emerald classes followed close behind Wilzoch. Cooler temperatures than the previous testing days set the drivers up for precise driving on the 3-mile track.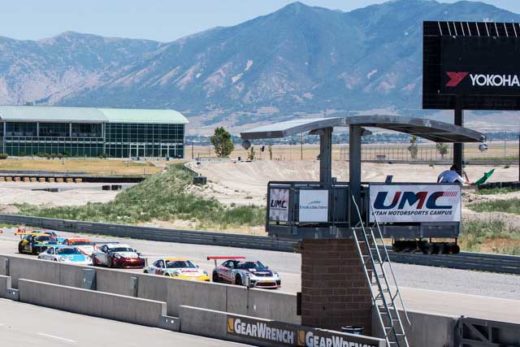 Emerald class drivers, Martin Brauns and David Harper stayed tight on Wilzoch in the first turn of the race. Wilzoch was able to clear himself of the pack once he found open track after Turn 1. Bronze class driver, Erin Vogel made a pass on Silver class driver, Jason Hall, but was unable to maintain her lead and lost two positions to Hall and Wayne Ducote soon after. A full-course caution on the next lap gave Vogel a chance to, and she immediately began to pres-sure Ducote once the green flag flew.
The power of Wilzoch's GT3R coupled with his race-craft set him apart from the pack once again and gave him a sizable lead on the GT3 Cup MR's behind him. Brauns defended con-sistent pressure from Harper during the race until a slip in lap 12 added 10 seconds of sepa-ration between the two, solidifying Brauns' victory.
"Dave did a great job," said Brauns. "He's clearly picking up his game, and it's fun to run with him. There was great fun at the start. I got to drag race down the front straight with Andy Wil-zoch, and it's remarkable to see how even those two cars are up until a point."
The GT4's of the Silver and Bronze Classes had close competition behind the Emerald Class, and a finish that reinforces the fact that sometimes patience is, in fact, a virtue. Bronze class driver Erin Vogel found herself stuck behind the two GT4's of the Silver class, despite often clocking faster laps. Vogel was held up until the very last lap when Jason Hall and Wayne Ducote spun. Vogel took advantage of the opportunity and passed the two GT4's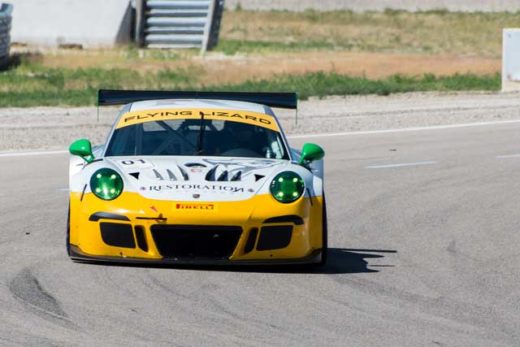 "I was trying to be as clean as I could," said Vogel. "I was mindful of all of the things that I've been working on with my coach this weekend. I knew that there were places that I had the speed and the finesse on them, so I just had to make sure I didn't mess that up so that I was there when it counted." Group 1 followed soon after and was led at the start by Platinum class driver, Michael Zuie-back on pole position. Hutton McKenna pressed hard on Zuieback and maintained a gap of less than a second throughout the opening laps. Zuieback and McKenna's quick driving gave them a solid lead on the pack, and they were left to battle with one another. McKenna held on tight to Zuieback through the entirety of the race and consistently pushed Zuieback deep into the corners. Zuieback defended McKenna's advances until late in lap 11 when McKenna made a pass at Turn 15.
"I was driving with a lot of patience, and a little bit of aggression," said McKenna. "Micheal didn't make any mistakes, and he outdrove me for the first half of the race, so I had to be very patient. I paid attention to how he was driving through turn 12 and was able to get next to him and make a pass. I had to be patient and work for it."
Platinum class driver, Chris Bellomo made an impressive three-position advance to P3 in the first lap but was soon under pressure from an inspired David Donner of the Platinum Masters class. Donner made a massive recovery to P3 after dropping two positions from P4 to P6 at the beginning of the race. His eventual class victory and P3 overall finish was well deserved.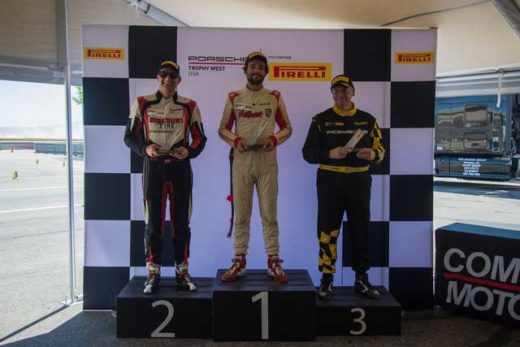 "I made some aggressive moves at the start and lost a couple of positions, but I just let it go," said Donner. "I was hungry to get back to where I started, and I eventually got to a point where I just had to defend my position. I'm very happy with how I finished the race."
Meanwhile, Gold class driver, Ray Shahi was on his epic conquest to recover lost positions. Earlier in the day, Shahi qualified P1 in his class, but a penalty from his previous race at Circuit of the Americas set him back five spots on the grid. Shahi advanced four positions in the first lap to find his class competitor, Laura Ely. Once he found Ely, Shahi was able to make a pass in lap seven.
"I was motivated today by the fact that I had that five-spot penalty," said Shahi. "I was upset with myself about what happened at COTA, so I tried hard to make up those positions. After I did that, I had Laura in front of me, and I just made sure I stuck with her, and I passed her at the right time."
Porsche Trophy West USA will return to Utah Motorsports Campus for Race 10 on Sunday. Follow all of the action on Instagram and Facebook at @porschetrophywestusa