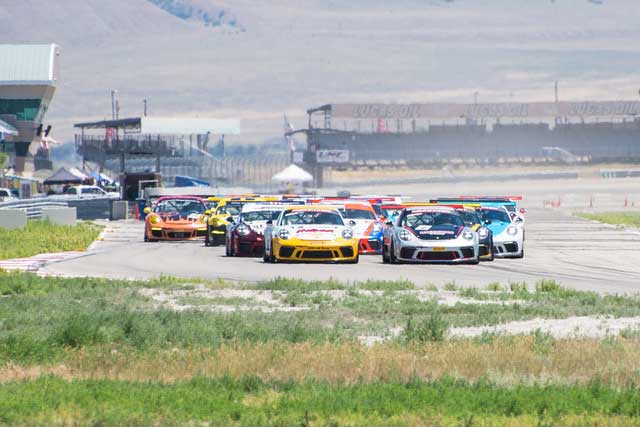 Toole, Utah — Porsche Trophy West USA brings Round 5 to a close at Utah Motorsports Campus.
The drivers of Porsche Trophy West USA returned to Utah Motorsports Campus today for race #10 of the 2019 season. The drivers were buzzing after yesterday's races, and there was excitement at every turn as the GT3 and GT4 Cup cars wowed the crowds during the final competition of the weekend. Group 1 mirrored their results from yesterday with Hutton McKenna, David Donner, and Ray Shahi winning in their classes.
Twenty-Three Porsche GT3 and GT4 Cup cars in seven classes competed today at Utah Mo-torsports Campus: Platinum and Platinum Masters (Porsche 991.2 GT3 Cup), Gold (Porsche 991.1 GT3 Cup), Silver (Porsche 982 GT4 Cup), Bronze (Porsche 981 GT4 Cup), Diamond (Por-sche GT3 R), and Emerald (Porsche 991.2 GT3 Cup MR).
Michael Zuieback qualified in P1 again today and led Group 1 past the green flag. The Porsche GT3 Cup cars of the Platinum Masters and Gold classes chased behind Zuieback like bulls behind a red flag. Yesterday's Platinum class champion Hutton McKenna took no time in at-tacking Zuieback's lead and was able to push past into first place after turn one. McKenna found himself defending his lead just as Zuieback was in the first half of yesterday's race, but was able to create a gap and secure his lead. Preston Calvert found himself patiently waiting behind Zuieback until the last lap of the race when he overtook him for P2 in the Platinum class.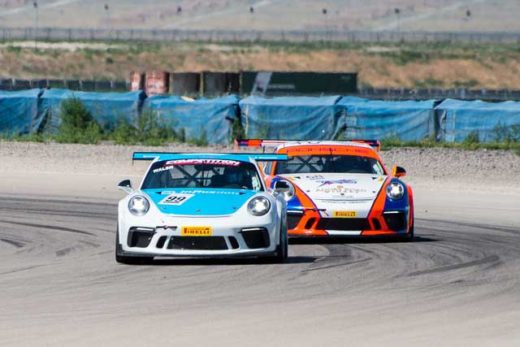 "Today it was all about maintaining concentration," said McKenna. "Sometimes, when I get out there by myself, I get distracted, so I just had to keep my head down. I got a little bit of a jump on the start, and that helped carry me through the first turns and give me a bit of a jump. Mi-chael and Preston drive very hard, so I have to be on my toes the whole time."
David Donner of the Platinum Masters class mirrored his performance yesterday and imme-diately began vying for Platinum class driver, Calvert's P3 position. Donner had a fair amount of traffic between himself and other Platinum Masters drivers, so he was safe to push hard for P3 overall, Calvert expertly defended Donner's advances and kept him at P4 overall.
"My first objective today was to have a better start," said Donner. "That worked out, and I was able to stay with the lead pack for a while. Everybody stepped up their game today, so I wouldn't have gotten away with what I did yesterday. Preston and I battled back and forth, and I chased him a good portion of the race, but it was mainly about getting a good start today."
In the Gold class, Laura Ely quickly worked her way past traffic to look for an opportunity to compete with class leader, Ray Shahi. Ely found herself stuck behind Platinum class driver, John Kerr until lap seven when Kerr spun. Ely began chipping away at the gap between herself and Shahi, but Shahi was able to maintain a buffer and win the race for a double-victory in the Gold class this weekend. Kevin Westcott fought hard to catch Robert Hanely, and nearly pas-sed him before the checkered flag, but Hanely was able to defend his lead by 0.244 seconds.
"I think I had my best qualifying lap ever today," said Shahi. "My team did a great job of set-ting my car up to do what it wanted, and my Porsche Irvine GT3 Cup car was immaculate today. We set up the car for the long haul today because of the heat, so at the end, I was pul-ling away from everyone."
Group 2 followed soon after and was led at the start by Andy Wilzoch on pole position. Erin Vogel qualified behind Jason Hall today and was eager to push past him without Wayne Duco-te between her and Hall today. Vogel pushed Hall deep into the corners throughout the race hoping to force a mistake, but the power of Hall's newer GT4 gave him just enough of an edge to stay in front of Vogel. A brief exit from the track by Vogel in lap seven dropped her off of Hall's tail for the rest of the race.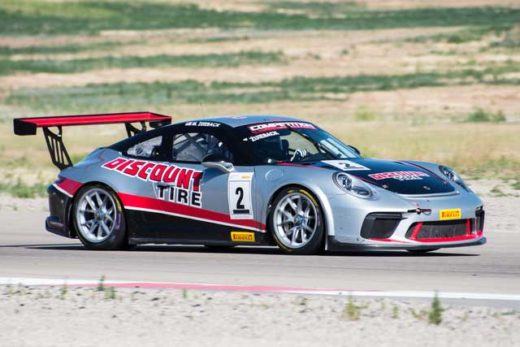 Martin Brauns led the Emerald class at the start again today but was passed by David Har-per going into turn one in the first lap. Brauns was in a position that he hasn't been familiar with this season and was had to find a way to get back around Harper. Brauns pressured, and Harper gave way in the lap two, which gave Brauns the opening to put a sizable gap between himself and his competitor.
"David had a very fine start, and he was very smart about it," said Brauns. "He got right in Andy Wilzoch's draft, and he didn't leave any daylight between the two cars, so I had nowhere to go but outside. After that, I just hounded him and managed to make a pass on him."
Competent Motorsport's president, Greg Franz was delighted with the entertaining races this weekend and is looking forward for more action coming up at Road America.
"Yesterday's races were some of the best that I have ever seen in this series," said Franz. "I'm just so proud of our drivers for going out there and improving at every event. Competent Motorsport exists to allow our drivers to have fun and improve their race-craft, and we ac-complished both of those things this weekend. I'm looking forward to seeing what else our dri-vers have in store for Road America!"
Porsche Trophy West USA heads east to Road America for Round 6, races 11 and 12, August 9 – 11. Register today at www.competentmotorsport.com, and follow all of the action on Insta-gram and Facebook at @porschetrophywestusa.